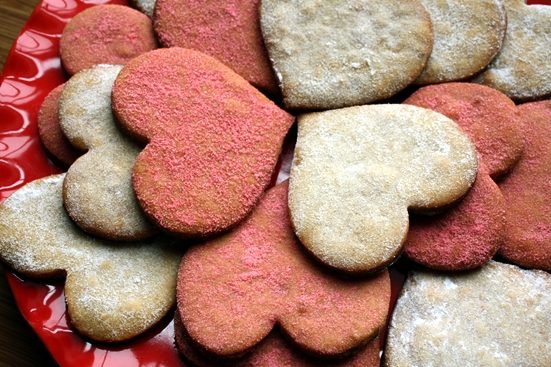 The cookie dough is incredibly sandy, for lack of better descriptor, and it needs to chill in the refrigerator wrapped tight in a log for at least four hours. A chilled dough and a sprinkling of flour on the work surface will help your cause of rolling out the dough tremendously. After baking, you are left with a sweet and slightly chewy cookie that's a nice change from a traditional sugar cookie dough.
The honey makes the cookies sweet enough that icing might put them over-the-top on the sweetness scale. Instead, I simply rubbed some sugar on the tops of the honey cookies once they had cooled. I pulsed granulated sugar in my coffee-bean grinder (feel free to use a food processor) to make it super fine and then colored it by rubbing some food color into the sugar. Enjoy!
Yield

About 40 mini-cakes or 1 small loaf, serving 12.

Time

1 hour
Ingredients
3

cups all-purpose flour

1

teaspoon cinnamon

½

teaspoon salt

1

cup butter, softened

1

cup brown sugar, packed

1

egg yolk

½

cup honey
Preparation
Whisk together the flour, cinnamon, and salt in a medium bowl and set aside.
Cream the butter and brown sugar together on medium speed until light and fluffy, about two minutes.
Add the egg yolk and the honey and beat until well incorporated.
Slowly add the flour mixture and continue to beat until just combined.
Form the dough into a log, seal in plastic wrap or wax paper, and refrigerate for at least four hours.
When the dough has chilled and set, roll out half of the dough on a lightly floured surface to about 1/4-inch thickness.
Use cookie cutters to cut the dough into desired shapes, returning the unused scraps of dough to the refrigerator to firm up as necessary. Repeat this process until all of the dough is used.
Place the cookies on a lightly greased baking sheet and bake at 350 degrees for 10 minutes, rotating the baking sheets halfway through, or until the edges of the cookies are lightly browned.
Allow the cookies to cool on the baking sheet for a few minutes before transferring them to a wire rack to continue cooling.
If desired, dust with super-fine sugar once cooled.
Tip
Spiced honey cookie variation: Add 1/4 teaspoon of cardamom to the dough along with the cinnamon.

To decorate with sugar, pulse granulated sugar in a coffee-bean grinder or a food processor a few times to make it super fine. Color the sugar by rubbing liquid or gel food color into the sugar. The color will glob onto the sugar, so you will really need to rub the color in. You may want to wear gloves during this step to avoid staining your fingertips.
---
Source: Love & Flour by LeAndra