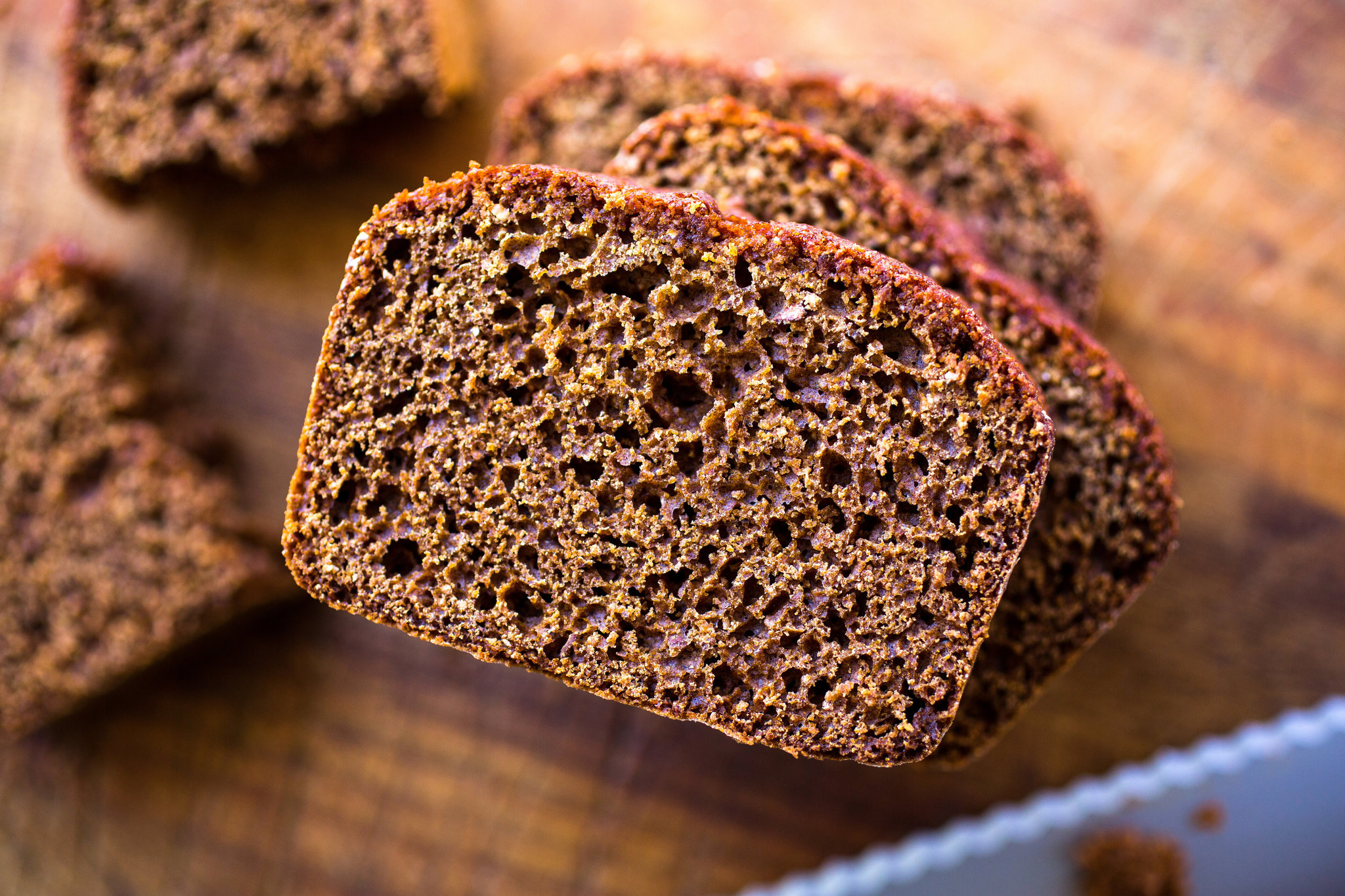 If you go to a French honey stand or shop, or one of the many honey fairs that occur during the summer in Provence, pain d'épices – spice bread – will always be one of the items for sale along with the honey, as honey is a key an ingredient in these breads. This recipe is based on one by French Pastry School founder Jacquy Pfeiffer. His recipe, which does not contain any butter or oil, results in a very moist bread. You will need a small loaf pan, no bigger than 4 x 8 inches, or you can make mini-muffins.
Yield

About 40 mini-cakes or 1 small loaf, serving 12.

Time

1 hour
Ingredients
175

grams (1/2 cup) honey

20

grams (2 tablespoons) brown sugar

62

grams (1/2 cup) whole wheat flour

62

grams (1/2 cup) rye flour

5

grams (1 teaspoon) baking powder

1

teaspoon ground anise

¼

teaspoon freshly ground pepper

½

teaspoon freshly grated nutmeg

½

teaspoon ground cinnamon

¼

teaspoon ground ginger

¼

teaspoon ground cloves

2

grams (1/4 teaspoon) salt

55

grams (1 extra large) egg

50

grams (3 tablespoons) milk
Preparation
Preheat the oven to 350 degrees. Butter a small (8 x 4-inch or smaller) bread pan and dust lightly with flour. Line with parchment if desired. Alternatively, use buttered and floured mini-muffin molds or silicone mini muffin molds.
Place the honey and sugar in a small saucepan, insert a thermometer and heat to 158 degrees while stirring with a rubber spatula.
Sift together the whole wheat flour, rye flour, baking powder, spices and salt and transfer them to the bowl of your mixer.
In a small bowl whisk together the milk and whole eggs. Turn the mixer on low and slowly add the milk and egg mixture. Stop the mixer and, using a rubber spatula or a plastic bowl scraper, scrape up any flour sticking to the bottom of the bowl. Add the warm honey mixture and mix on medium speed until incorporated. Scrape into the bread pan or spoon about 1 to 2 teaspoons into each mini-mold, filling them 3/4 full.
Bake mini-cakes for 15 to 20 minutes, loaves for 40 to 45 minutes, until deep brown and a tester comes out clean. Remove from the heat, unmold and cool on a rack. If making a loaf, for best results, once cool wrap tightly in plastic and allow the cake to rest for a day.
Tip
Advance preparation: The bread keeps well for a week and freezes well for a month or longer.
---
Source: NYT Cooking by Martha Rose Shulman